ICHOM Global Benchmarking Platform, powered by MRDM
The Global Benchmarking Platform helps healthcare providers worldwide to collect, validate, and compare their outcomes data efficiently and at scale using quality assured Sets of Patient-Centered Outcome Measures.
The outcomes data will help physicians and clinical teams evaluate how they're doing compared to their peers worldwide and allow for learning from each other to improve healthcare. The platform we are developing together will enable patients and clinicians to jointly make care more personalized, aligning clinical choices with patient preferences.
About the collaboration
Over the past decade, ICHOM has been producing the world's leading Sets of Patient-Centered Outcome Measures through global consensus working groups. As it is complex to collect and compare data, the implementation of Sets of Patient-Centered Outcome Measures is limited, resulting in slower development of value-based healthcare. The global benchmarking platform is here to take on this challenge.
MRDM & ICHOM joined forces to draw on each other's mutual strengths, further enabling ICHOM's global non-profit mission to unlock the potential of value-based healthcare and continuing MRDM's mission to turn data into better healthcare.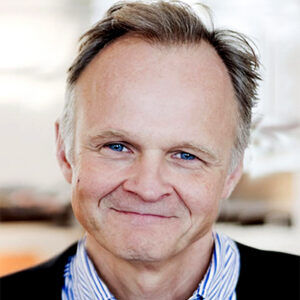 ICHOM is responsible for the content using the human and machine-readable ICHOM Sets of Patient-Centered Outcome Measures, while MRDM looks after the technical part of developing and maintaining the platform.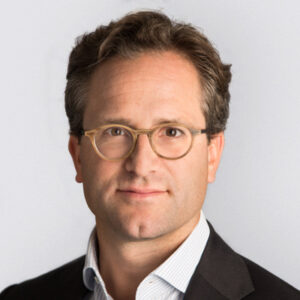 The platform will help providers globally to collect and compare outcome data efficiently and securely at scale. It will enable systems, providers, payers, patients, and researchers to interpret and use outcome information effectively for improved care and decision support.
Global Benchmarking Platform
ICHOM Sets of Patient-Centered Outcome Measures
ICHOM is an undisputed authority in developing global standards for the measurement of outcomes. ICHOM has published 39 Sets that cover >50% of the worldwide disease burden. With the ICHOM Sets and the platform it is possible to get the most out of your data by benchmarking outcomes globally. It is possible to register and use the platform with your own system.
Outcomes Platform

Collect
Choose your preferable way of collecting and uploading outcomes and PROMs data.
FHIR-API
Batch data uploads
Manual data entry

Process
The platform validates, combines, and analyzes data according to the ICHOM working group's calculations rules.
Data validation
Ingestion & Storage
Analytics

Report
Receive access to insights to compare with global best practices and perform further research.
Interactive dashboards
Multiple levels of benchmarking
Export data for research or internal use
Your medical data is safe with us
ISO27001 certified
GDPR compliant
Supports FAIR principles
Get the most out of your data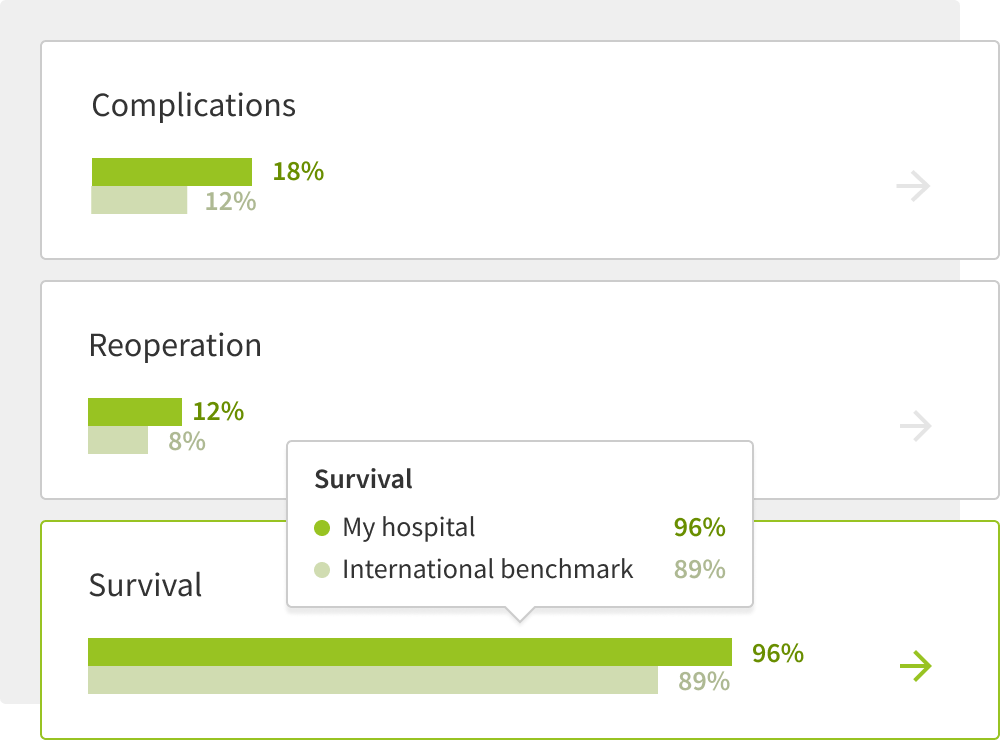 Gain insight into your performance on ICHOM KPIs in our interactive dashboards
Compare your KPI scores to benchmark and understand what you excel at and where your most significant improvement points are
Track the changes of your KPI-performance over time
Filter and cross-section KPIs by demographics, diagnosis, or treatment for a deeper view on performance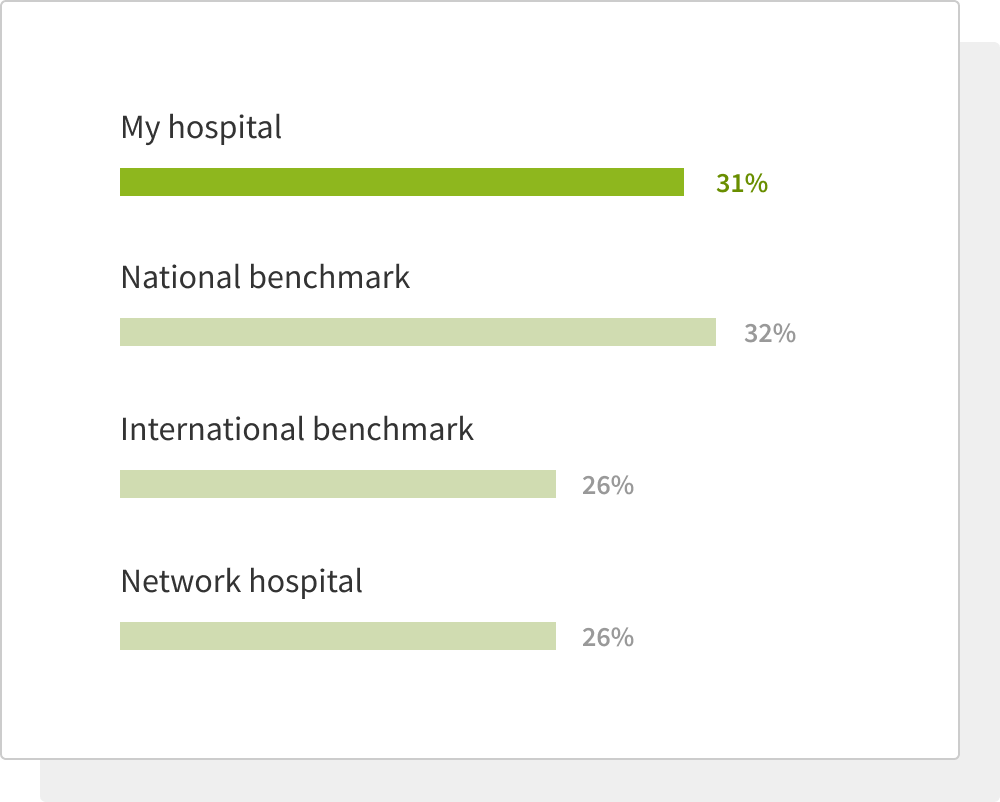 Benchmark all outcomes against peers worldwide
Compare your score to:
An international benchmark
A national benchmark
Individual providers within your own network in an open benchmark (add-on to standard offer, mutual provider permission required)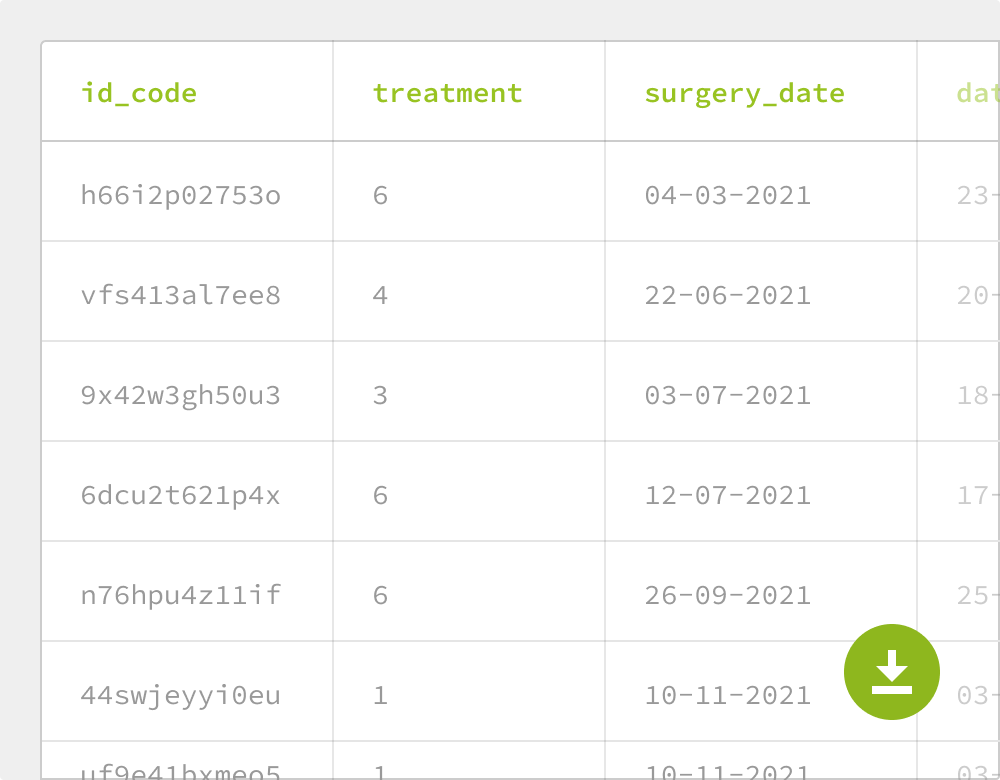 Use standardized extracts of your data as you see fit
Perform any additional analytics on your validated data
Further enrich your data with other sources
Work easily together on additional analytics or data enrichment with your local partners by allowing them access to your data extracts
Features
Available
Planned
Add-ons Add-on: additional features participants can purchase beyond the standard package.
Collect
Batch data upload

Submit multiple patient records in one transaction via the secured upload facility

Manual data entry

Fallback option to manually enter data, with real-time validations

FHIR-API

Connect with the FHIR-API for automated upload from primary source systems
Process
Validations

Ensure high data quality to increase the reliability of the results with advanced validations

Analytics

Combine and analyze data streams based on standardized calculation rules for the set

Decentralized hosting

Set-up regional hosting in your geography if your local privacy regulations require

Local hosting

Set-up local hosting within your health institution.
Report
Dashboarding

Benchmark outcomes to learn, improve and create impact for patients

Data export

Receive standardized and validated data extracts to perform additional research

Network benchmarking

Compare outcomes against best practices in your network

Dating module

Authorize and distribute validated datasets to third parties for further research or analytics

API for data distribution

Connect with the API to perform your additional research
The future is value-based healthcare
With the Global Benchmarking Platform we are removing the technical and operational barriers around data access. By facilitating benchmarking across your organisation and your peers across the world, we will learn from each other to the ultimate benefit of patients.
Why is this development important?
Reduce and align your healthcare spending with a focus on value-based healthcare
Access validated outcomes data and quality assured ICHOM Sets of Patient-Centered Outcome Measures

Collect and compare outcomes data efficiently and at scale
Work collaboratively to improve patient outcomes
Frequently Asked Questions
General questions
Joining the platform
Platform and technology
Privacy, security & hosting